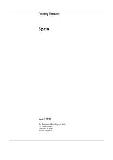 Country Forecast Spain March 2018 Updater
March 2018 •
Report ID: 5365353 •
Format: PDF


In November 2016, following two inconclusive general elections, the conservative People's Party (PP) formed a minority government led by the prime minister, Mariano Rajoy.
Spain was plunged into a constitutional crisis by a referendum on independence in Catalonia, held on October 1st 2017, which Mr Rajoy badly mishandled. The vote led to a unilateral declaration of independence by the regional parliament on October 27th.
The national government subsequently suspended home rule and dissolved the regional parliament in order to hold a snap regional election. Pro-independence parties won a majority with about 48% of the vote. The Constitutional Court has blocked the re-election of Carles Puigdemont as regional prime minister, but tensions appear likely to continue.
The Economist Intelligence Unit forecasts that Catalonia will remain part of Spain over the next five years, but that relations between Catalonia and the state will remain strained. The Catalan question appears unlikely to be addressed directly before the next general election.
We do not expect a national election in the near term, but as the immediate threat to territorial integrity subsides, a snap vote will be a considerable risk. Mr Rajoy is unlikely to complete his four-year term to 2020.
Following a budget deficit of 4.5% of GDP in 2016, we estimate a deficit of 3% of GDP in 2017. The deficit will contract to 2.6% of GDP this year and average 1.5% in 2019-22. Public debt is expected to fall to about 86% of GDP by 2022.
Economic reforms in 2011-15-including substantial modifications to labour regulations, pensions and the tax code, among other policy areas-have improved the business environment. However, the pace of reform will remain substantially slower, not least because of the Catalan conflict.
Following an expansion of 3.3% in 2016 and real GDP growth of 3% last year, we forecast growth of 2.7% this year and an average of 2.1% in 2019-22.
After an estimated current-account surplus of 1.7% of GDP in 2017, we expect the surplus to average 1.2% in 2018-22, buoyed by respectable export performance even as the country's import bill rises.