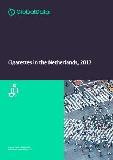 Cigarettes in the Netherlands, 2017
September 2017 •
70 pages •
Report ID: 5376281 •
Format: PDF
Cigarettes in the Netherlands, 2017

Summary
"Cigarettes in the Netherlands, 2017", is an analytical report by GlobalData which provides extensive and highly detailed current and future market trends in the Dutch market.

The overall market for factory-made cigarettes in the Netherlands has contracted by 41.2% between 1990 and 2016 as a result of stiff, tax-led price increases. Per capita consumption levels for factory-made cigarettes are only modest, averaging 600 pieces per year in 2015, mainly because of the still high usage of RYO cigarettes although this sector has recently seen falls in demand. Smoking remains quite prevalent although is falling back, with a contracting 26.4% of the adult population estimated as smokers in 2016.

What else does this report offer?
- Market size and structure of the overall and per capita consumption based upon a unique combination of industry research, fieldwork, market sizing analysis and our in-house expertise.
- Detailed information such as market shares and recent developments of the manufacturers, leading brands along with company profiles.
- Regulations, taxation, retail pricing, smoking habit and the growing health concerns affecting overall production.
- Prospects and forecasts of overall sales and consumption for 2016 to 2026.

Scope
- Two companies are dominant in the market, with a combined 72.9% of sales in 2016. Over the last decade, both companies have closed local production facilities.
- The Netherlands had, until recently, one of the largest cigarette manufacturing industries in Western Europe, despite only having a modest domestic market, due to its position as an important export production base for Philip Morris and also, until recently, BAT. Philip Morris' plant at Bergen-op-Zoom supplied, among others, the French, Spanish, and Italian markets. However, because of over capacity within Europe, PMI announced in early 2014 that it was to close its Dutch operation, with production ending towards the end of 2014.
- Exports have regularly formed a massive share of national production, partly due to the Netherlands' status as an import and re-export trading center, as well as its use as a regional production hub for some of the leading multinationals.
- Before EU accession the trading environment was also relatively liberal, with an industry code of conduct controlling advertising. However, with the passing of strict EU legislation, the trading environment has become much more difficult, with legislation replacing voluntary agreements. Advertising is now prohibited except at point-of-sale. From 2004 new laws guaranteeing the rights of non-smokers to smoke-free air in the workplace came into force, and a ban on smoking in catering establishments was only deferred by 12 months, after an outcry by the hospitality industry, pending further discussions. Smoking is permitted in cafés and bars of less than 70m² area and run by one person, with this recently being supported by the Dutch High Court in September 2016.
- Future development depends on government tax policy, with signs that the market will continue to be under pressure with a further decline likely in coming years.

Reasons to buy
- Get a detailed understanding of consumption to align your sales and marketing efforts with the latest trends in the market.
- Identify the areas of growth and opportunities, which will aid effective marketing planning.
- As consumers' product demands evolve, the dynamics between different countries also change - favoring some countries and leaving others increasingly out of line with demand patterns. As a result, understanding the specific market dynamics of the Irish market is crucial to ensuring maximum future sales.
- The differing growth rates in regional product sales drive fundamental shifts in the market. This report provides detailed, authoritative data on these changes -prime intelligence for marketers.
- Understand the market dynamics and essential data to benchmark your position and to identify where to compete in the future.