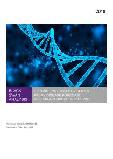 EPIOMIC EPIDEMIOLOGY SERIES: FABRY DISEASE FORECAST IN 21 MAJOR MARKETS 2018–2028
July 2018 •
74 pages •
Report ID: 5472000 •
Format: PDF
Black Swan Analysis Epiomic™ Epidemiology Series Forecast Report on Fabry Disease in 21 Major Markets

Fabry disease is a lysosomal storage disorder, caused by a genetic defect in the alpha-galactosidase-A gene (?GLA-gene), localized on the long arm of the X-chromosome (Xq22). This gene is essential in the breakdown of fatty substances, otherwise substances like globotriaosylceramide, will accumulate in the arteries, narrowing them and reducing blood flow around the body. It is a multi-system disorder characterised by dermatologic angiokeratoma corporis diffusum and purpura haemorrhagica nodularis, but also affects ocular, auditory, cardiac, digestive and renal systems.

This report provides the current prevalent population for Fabry Disease across 21 Major Markets (USA, Canada, France, Germany, Italy, Spain, UK, Poland, Netherlands, Austria, Portugal, Russia, Turkey, Japan, China, South Korea, India, Australia, Brazil, Mexico, Argentina) split by gender and 5-year age cohort. Along with the current prevalence, the report also contains a disease overview of the risk factors, disease diagnosis and prognosis along with specific variations by geography and ethnicity.

Providing a value-added level of insight from the analysis team at Black Swan, several of the main symptoms and co-morbidities of Fabry disease have been quantified and presented alongside the overall prevalence figures. These sub-populations within the main disease are also included at a country level across the 10-year forecast snapshot.

Main symptoms and co-morbidities for Fabry disease include:
• Angiokeratoma

• Cornea verticillata (corneal whorling)

• Hearing loss

• Tinnitus

• Proteinuria

• Cardiac hypertrophy & arrhythmias

• Sweating dysfunction

This report is built using data and information sourced from the proprietary Epiomic patient segmentation database. To generate accurate patient population estimates, the Epiomic database utilises a combination of several world class sources that deliver the most up to date information form patient registries, clinical trials and epidemiology studies. All of the sources used to generate the data and analysis have been identified in the report.

Reason to buy
• Able to quantify patient populations in global Fabry disease market to target the development of future products, pricing strategies and launch plans.

• Gain further insight into the prevalence of the subdivided types of Fabry disease and identify patient segments with high potential.

• Delivery of more accurate information for clinical trials in study sizing and realistic patient recruitment for various countries.

• Provide a level of understanding on the impact from specific co-morbid conditions on Fabry disease prevalent population.

• Identify sub-populations within Fabry disease which require treatment.

• Gain an understanding of the specific markets that have the largest number of Fabry disease patients.