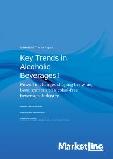 Key Trends in Alcoholic Beverages: Powerful changes shaping the wine, beer, spirits and alcohol-free beverages industry
September 2018 •
38 pages •
Report ID: 5575166 •
Format: PDF
Key Trends in Alcoholic Beverages: Powerful changes shaping the wine, beer, spirits and alcohol-free beverages industry

Summary
The alcoholic beverage industry is undergoing some significant changes at present and whilst there are some good opportunities for growth and innovation developing, there are also some concerning signs for the industry in certain segments. The trend for premium products in the beer and spirits industries has spawned the craft industry and it has proved to be a particularly difficult nut to crack for the big beer producers.

Buying up craft beer companies sometimes has unexpected outcomes with the industry and consumers alike, punishing acquisitions severely, whilst on the other hand traditional mass produced beer volumes are declining. A similar process is happening in the spirits market, with multiple old fashioned products getting craft revival and premiumization.

A powerful trend in the industry is the revelation that people are drinking less and particularly younger consumers are choosing to consume less alcohol because of the health impacts and this is leading to newer alcohol-free products that are making good progress. The wine industry has a difficult fight on its hands as it finds its legendary production regions suffering from reduced grape yields as a result of more severe weather patterns, this is leading to new countries emerging as market players as a result.

Key Highlights
- The most important development in the beer industry of the last decade has been the rapid rise of the craft beer industry. Almost all significant growth in the industry has come from this particular segment and the result is that big beer has become very interested in the new opportunities that have become available. Players have taken different tact when faced with the challenge of trying to capture some of this new growth, some have tried to create their own in-house brands to compete directly with smaller craft beer companies, while others have made significant acquisitions.
- From 2015 through to 2017 there has been a significant period of acquisition with the biggest players purchasing well positioned craft beer companies. However, in some cases this is proving to not always be a fruitful strategy, because consumer behavior in the industry means that craft beer brands owned by larger brewing companies can sometimes be shunned. Another concerning specter haunting the industry is the coming cannabis craze and the big players are trying to bolster themselves against it.
- Spirit sales have been steadily increasing, primarily driven by premiumization and craft production. As consumers are looking to moderate alcohol consumption, they tend to buy less spirits but opt for higher quality products. There has been a surge in merger and acquisition activity as well as big companies looking to capitalize on the super-premium market, as economic inequality sky-rockets and wealth is increasingly concentrated in the hands of the few. Craft beer has also impacted this market, with consumers focusing more on quality and artisanal products. Changes in the structure of UK alcohol duty have seen several smaller breweries establish themselves, primarily producing artisanal gin.
- However, they are also distilling craft whiskey, which takes longer to produce. Spirits are having to promote premiumization and craft production as a means to drive sales, and some spirits which have fallen behind, such as rum, vodka, and tequila, have shown signs they are also beginning to engage in craft production. Finally, the rise of veganism will also reflect in the spirits market, particularly in Germany and the UK where the trend is growing strongly.
- Traditionally, alcohol-free products have been a rather small portion of the overall alcohol market, being a niche product and serving only one specific function. This has traditionally been for those consumers that are avoiding alcohol for some specific reason on a specific date. But there is a new rejuvenated interest in the segment because it has become clear over the last decade that alcohol consumption rates are actually going down on the whole in many global regions, particularly in developed ones. Whilst many older generations, the affluent and professional classes are still drinking alcohol to high rates, many younger consumers are actually developing a different relationship with alcohol many because of health concerns.

Scope
- Examine the major trends in the alcoholic beverages industry and what companies are doing to exploit them
- See why big beer players are getting increasingly involved in the craft beer industry
- Learn about the concerning new threats in the wine industry and what can be done to counter them
- Understand the rise of alcohol-free beverages and what opportunities are available to innovative players
- Examine the development of the craft spirit industry

Reasons to buy
- What are the key changes happening in the alcoholic drinks industry?
- What players are making significant new moves in the industry?
- Are there any opportunities arising out of major industry trends?
- What new products are starting to gain traction with consumers?
- What threats might hit the major players over the coming years?