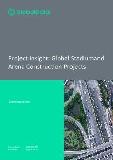 Project Insight: Global Stadium and Arena Construction Projects
August 2018 •
57 pages •
Report ID: 5582684 •
Format: PDF
Project Insight: Global Stadium and Arena Construction Projects

Summary
In terms of the project pipeline value, the Americas account for the highest share with US$54.9 billion, equivalent to 41% of the total global value of stadia and arenas projects. Asia-Pacific is in second place, with projects valuing US$31.8 billion. Europe has projects valued at US$25.6 billion, while the Middle East and Africa has a project pipeline of US$13.1 billion, trailing the other regions.

The Americas and Europe have a mature stadium and arena market, with huge investment from professional and amateur sporting leagues for American football, basketball, hockey and baseball in the Americas to football (soccer), cricket and rugby in Europe.Stadia construction in other regions is not as advanced as the Americas and Europe, as there is less commercial investment from professional sports teams, which drives growth.

China is beginning to develop professional soccer with the Chinese Super League (CSL) and India has an established cricket brand with the Indian Premier League (IPL) which will assist with stadium investment.

The global stadium and arena construction projects pipeline, as tracked by the Construction Intelligence Center (CIC), stands at US$125.5 billion, and comprises numerous projects related to major sporting events, such as the forthcoming Summer Olympic Games 2020 in Tokyo, the Winter Olympics 2022 in Beijing and the Fifa World Cup in Qatar in 2022. There is also significant investment in the refurbishment and building of new stadia and arenas for major sporting leagues in the UK and across the rest of Europe, as well as in the US and China.

Scope
- The report provides analysis based on CIC projects showing total project values and analysis by stage and funding for the top ten countries.
- The major international sporting events are analysed showing the major projects.
- The top 50 global projects are listed giving country, stage, value of stadium and arena construction.
- Ranked listings of the key operators for the sector are also provided showing the leading contractors, consulting engineers and project owners.
- Country profiles are provided for the top 10 countries including the US, China and the UK.

Reasons to buy
- Gain insight into the development of the stadium and arena construction sector.
- Assess all major projects by value, start date, scope and stage of development globally, for the regions and top 10 countries to support business development activities.
- Plan campaigns by country based on specific project opportunities and align resources to the most attractive markets.