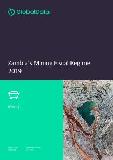 Zambia's Mining Fiscal Regime 2019
April 2019 •
24 pages •
Report ID: 5764869 •
Format: PDF
Zambia's Mining Fiscal Regime 2019

Summary
GlobalData's "Zambia's Mining Fiscal Regime 2019", report includes country's mineral overview and a snapshot on its macroeconomic performance.It comprehends the country's mining industry structure by covering various governing bodies and their functions, laws and regulations, and rights and obligations.

We also explore the cost of doing business by providing information related to various taxes and payments applicable. The report also identifies multiple opportunities and challenges involved in the country's mining industry.

Scope
- The report outlines the governing bodies, laws, regulations, licenses and key fiscal terms which includes corporate income tax, withholding tax, sales tax, transportation tariff, customs duty, and mineral royalties.

Reasons to buy
- To get active information on industry-wide major taxes and payments
- To gain an overview of Zambia's mining fiscal regime
- To monitor and conduct analysis for mitigating the impact of regulatory changes
- To stay apprised on regulatory framework
- To understand the mining industry structure by identifying country's mining governing bodies, major laws and regulations.