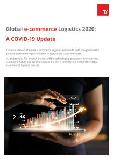 Global e-commerce Logistics: A Covid-19 Update
July 2020 •
162 pages •
Report ID: 5932795 •
Format: PDF
Global e-commerce Logistics 2020: A Covid-19 Update contains up to date thoughts on the global e-commerce logistics market in light of the Covid-19 impact. It also provides Ti's original analysis of the technological pressures, ever evolving purchasing habits and continued cross-border e-commerce growth.
Covid-19 has exacerbated the threat of online business to brick & mortar stores. Ti's recent survey of logistics industry professionals reveals a grim future for bricks-and-mortar retail – a staggering 94% see little prospect for improved demand for high street store distribution after the coronavirus crisis has passed.
Global e-commerce Logistics 2020: A Covid-19 Update analyses the full impact of the Covid-19 crisis on the e-commerce market as well as assessing trends and opportunities outside of the fallout from Covid-19.
How will the Covid-19 crisis impact e-commerce? What are the critical challenges and opportunities for LSPs and retailers?
How will the Covid-19 crisis affect consumer buying behaviour in the short, and long term?
What are the other trends and challenges facing the e-commerce market in 2020 and beyond?
The report also provides Ti's world leading market sizing analysis and growth forecasts. The report assesses cost breakdowns by channel and region, the structure of the e-fulfilment market and company strategies led by interviews with leading logistics players.


This report contains
The trends and developments impacting e-commerce logistics in 2020, including the impact of Covid-19.
Comprehensive data and analysis on e-commerce logistics market size and growth from 46 countries as well as forecasts to 2024 by country
Cost structures of major e-retailers by retail channel, vertical sector and geography
Market splits for e-fulfilment / last mile
Interviews and primary research with leading e-fulfilment, last mile providers and retailers
Strategic profiles of leading online retailers & LSPs