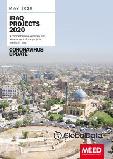 Iraq Projects 2020 - MEED Insights
May 2020 •
285 pages •
Report ID: 5978809 •
Format: PDF
Iraq Projects 2020 - MEED Insights

Summary
Iraq has emerged as one of the fastest-growing project markets in recent years due to a rise in oil and gas, utility capacity enhancement and reconstruction projects in the country.

This has accelerated since February 2018, when $30bn in funding was secured in the form of loans, grants and pledges from friendly countries at a reconstruction conference held in Kuwait, following the defeat (for the most part) of the Islamic State of Iraq and Syria (Isis).

The spread of the 2019 novel coronavirus strain (SARS-CoV-19) and the resulting Covid-19 pandemic has nevertheless caused considerable harm to Iraq's short-term prospects in terms of economic development, government income and project market activity in 2020.

It has been particularly impactful on the oil and gas sector by affecting staffing on oil and gas extraction projects and on project development sites. Capital spending in the oil sector also likely to be heavily curtailed as a result of the fall in global oil prices, since oil receipts account for approximately 40 per cent of the Iraq's GDP and a greater share still of governments revenue.

Project activity in Iraq has also been impacted by movement restrictions aimed at curbing the spread of Covid-19. The first such chilling effect came in the first few days of February, when Iraq barred Chinese foreign workers assigned to oil projects from re-entering the country.

Across industry sectors, there are now also serious doubts over whether the upcoming projects are likely advance into the construction stage, due to the declaration of a blanket force majeure by Iraq's pandemic crisis committee in March.

All of the issues currently affecting the Iraq market are made more complex by the current lack of a functioning government in the country. Since the resignation of Prime Minister Adil Abdul-Mahdi on 29 November, and his subsequent step down from the role of caretaker Prime Minister on 1 March, no subsequent Prime Ministerial candidate has been able to form a viable coalition.

Disagreement within parliament along sectarian lines continues to be the main obstacle to effective governance in the country, and the key challenge for any prospective leader will be to strike a path that is perceived to be sufficiently non-partisan to bring all sides to the table.

In the absence of a recovery of oil prices and a government capable of initiating some sort debt finance to fund vital capital projects, the near-term projects market in Iraq may be limited to ongoing or smaller schemes and those less reliant on government support, such as public-private partnerships or export credit-financed projects.

Written by MEED, the Middle East market experts within the Group, In the longer term, should conditions improve, Iraq will no doubt reclaim its position as a growth market for contractors and other business, but much depends on the recovery of oil markets.