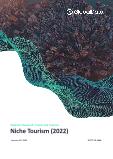 Niche Tourism, 2021 Update - Thematic Research
January 2021 •
41 pages •
Report ID: 6011881 •
Format: PDF
Niche Tourism, 2021 Update - Thematic Research

Summary
The maturing tourism market has shifted tourists away from the annual 'sun and beach' getaway to develop an experience that is more aligned with holidaymakers' specific hobbies, interests, curiosities and needs. Leisure tourism is now identified as a broad term for traveler motivations and niche tourism is a critical element to be considered as consumer attitudes shift towards more special interest travel.

This thematic research report takes an in-depth look at the theme of Niche Tourism and its role within the travel sector today.This report analyzes the key leaders within this theme alongside the customer, company and main niche trends that are driving major changes within the travel landscape.

It then dives deep into an industry analysis presenting an array of case studies looking at how it is being used to drive awareness and the impact of this theme on the sector. Recommendations are then offered for the travel sector alongside a description of companies mentioned throughout.

"Instead of being passive observers, today's tourists desire an adventure worth remembering - whether this be 'for the gram' or for one's self-development, experiences are now a game changer in the travel purchase decision. The typical 'sun and beach' holiday will continue to be an attractive holiday type for years to come -but travelers now expect more. Mass tourism's inability to satisfy people's craving for new and unique experiences is spurring operators to offer a greater variety of experiences to accommodate to the 21st Century traveler".

Key Highlights
- Niche tourism will continue to be a critical theme in the 21st century travel space aiding companies in customer satisfaction. Emerging niche themes such as the quest for space tourism, slow travel and transformational travel have been identified as the next emerging themes set to make major changes.
- Industry themes such as online travel, the experience economy, the power of WOM and social currency followed by the impact of Generation Hashtag (Millennials/GenZ) have accelerated the development of niche tourism. Companies have had to drift away from the 'one size fits all' approach, identifying niches within the market - which can be described as an umbrella term within itself.
- Targeting a niche form of tourism can potentially lead to a higher ROI aiding the perception of a brand or a destination image - as long as this is backed up by market research and data analysis. The relationship between travel and technology is becoming ever more entwined and leading players are having to invest in technologies such as Big Data, the Cloud, IoT, and AI amongst others in order to stay relevant in today's highly competitive travel marketplace.
- With GenZ and Millennials soon to be the most likely to be searching for alternative experiences within the niche tourism theme, social media is already a critical element in tourism marketing campaigns. In identifying a niche and understanding its purpose, social media can be a major factor in identifying new opportunities.
- Due to national lockdowns, an onslaught of international travel restrictions and remote working, COVID-19 has typically resulted in more time spent at home. This may have in turn given individuals time to identify their passions for travel whether being more environmentally-friendly, conservationist, appreciative of nature or more aware of the cultural significance of a destination in preparation for their next trip.

Scope
- This thematic report provides an overview of Niche Tourism's role within the travel sector today and how it will only continue its involvement.
- The key trends within this theme are split between consumer trends, company trends and the main niche trends that are recognizable today.
- Several case studies are included to analyze the multiple ways travel companies and DMO's have identified niche opportunities within the market.
- Our unique thematic analysis then dives deep into how other industry themes have aided the expansion of Niche Tourism, the impact of COVID-19 on this theme and how niche tourism has offered DMO's unique ways to drive inbound tourism.

Reasons to Buy
- Understand the current niche trends within the travel landscape today and how these will escalate in the near future.
- Assess how companies and DMOs are targeting 'special interest' tourists to aid brand awareness, increase revenues and drive inbound tourism.
- Acknowledge both the advantages and disadvantages of in attracting a niche, identifying why it is critical to develop strategic policies that ensure the sustainable development of tourism.
- Discover recommendations that will help you service the next generation of travelers through identifying a niche and effectively servicing this in the right way.
- thematic research ecosystem is a single, integrated global research platform that provides an easy-to-use framework for tracking all themes across all companies in all sectors. It has a proven track record of identifying the important themes early, enabling companies to make the right investments ahead of the competition, and secure that all-important competitive advantage.
- All across the travel and tourism supply chain including DMO's now have an opportunity to capitalize on a niche market and there are notable examples of this. Therefore, all should buy this report to fully understand how this theme will continue to be a key theme in the future travel landscape.