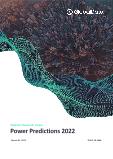 Power Industry Top 20 Themes Predictions for 2022 - Thematic Research
March 2022 •
32 pages •
Report ID: 6037441 •
Format: PDF
Power Industry Top 20 Themes Predictions for 2022 - Thematic Research

Summary
We classify our top 20 themes for 2022 into three groups. The major technology themes impacting the power sector in 2022 will be: artificial intelligence (AI), big data, blockchain, cybersecurity, cloud computing, the Internet of Things (IoT), virtual and augmented reality (VR and AR), robotics, electric vehicles (EVs), and smart grid.

The major macroeconomic themes impacting the power sector in 2022 will be: COVID-19, China impact, and environmental, social, and governance (ESG).

The major industry themes impacting the power sector in 2022 will be carbon emissions, renewable energy, energy transition, distributed generation, hydrogen, energy storage, and predictive maintenance.

Scope
- This report covers the top 20 themes that would impact the power industry in 2022. For each theme, the report gives a series of predictions, highlight the leaders and laggards, and point you to further reading.

Reasons to Buy
- Companies who invest in the right themes become success stories; those who miss the big themes end up as failures. Given that so many themes are disruptive, it is very easy to be blindsided by industry outsiders who invade your sector.
- This report is a multi-theme report covering 20 themes, drawn from industry, technology, and macroeconomics. It depicts a short-term outlook for the industry from the perspective of these 20 themes.