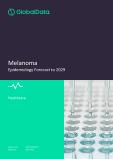 Melanoma - Epidemiology Forecast to 2029
April 2021 •
41 pages •
Report ID: 6063654 •
Format: PDF
Melanoma - Epidemiology Forecast to 2029

Summary
Melanoma is a malignant neoplasm of melanocytes, the pigment cells in the skin located on the epidermis, the most superficial layer of the skin (World Health Organization, 2017).Melanocytes are embryological derivatives of neural crest tissue, and as such, any region of the body that is a derivative of the neural crest and contains melanocytes, namely areas of skin, meninges, mucous membranes, esophagus, and eyes, can develop melanoma (Komarnicky-Kocher and Alite, 2013).

Accordingly, non-cutaneous melanomas typically occur in the eye and mucosa and account for only 4-5% of primary melanomas.This report focuses on melanoma of the skin (International Statistical Classification of Diseases and Related Health Problems, Tenth Revision [ICD-10] Code: C43) (Centers for Disease Control and Prevention, 2020; Mayo Clinic, 2020).

Melanoma typically presents as a mole (nevus) on the skin, and is characterized by the growth's asymmetry, irregular border, color variation, diameter greater than six millimeters, and evolution in appearance over a few weeks or months; these five diagnostic characteristics are known collectively by the acronym ABCDE (Gadeliya Goodson and Grossman, 2009; Goodman and Snyder, 2012).

In the 8MM, epidemiologists forecast the diagnosed incident cases of melanoma to increase from 190,771 cases in 2019 to 222,458 cases in 2029, at an Annual Growth Rate (AGR) of 1.66%. The US will have the highest number of melanoma cases throughout the forecast period. The five-year diagnosed prevalent cases of melanoma in the 8MM are also expected to increase from 794,304 cases in 2019 to 947,373 cases in 2029 at an AGR of 1.93%.

Scope
- The Melanoma Epidemiology Report provides an overview of the risk factors and the global and historical trends for melanoma in the eight major markets (8MM: US, France, Germany, Italy, Spain, UK, Australia, and Canada).
- The report includes a 10-year epidemiological forecast for the diagnosed incident cases of melanoma segmented by age (beginning at 18 years and ending at 85 years and older), sex, cancer stage at diagnosis (American Joint Commission on Cancer [AJCC] Stages I, II, III, and IV), and mutations (BRAF, BRAF V600E, BRAF V600K, BRAF Non-V600, NF1, BRAF/NF1, NRAS Q61, C-KIT, PD-L1 expression, tumor mutational burden [TMB], NTRK - mutations in tropomyocin receptor kinase [TRK]).
- The melanoma epidemiology report is written and developed by Masters- and PhD-level epidemiologists.
- The Epidemiology Report is in-depth, high quality, transparent and market-driven, providing expert analysis of disease trends in the 8MM.

Reasons to Buy
The Melanoma Epidemiology series will allow you to -
- Develop business strategies by understanding the trends shaping and driving the global melanoma market.
- Quantify patient populations in the global melanoma market to improve product design, pricing, and launch plans.
- Organize sales and marketing efforts by identifying the age groups that present the best opportunities for melanoma therapeutics in each of the markets covered.
- Understand magnitude of melanoma by stage at diagnosis and mutations.