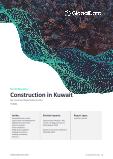 Construction in Kuwait - Key Trends and Opportunities to 2025 (H1 2021)
April 2021 •
45 pages •
Report ID: 6066588 •
Format: PDF
Construction in Kuwait - Key Trends and Opportunities to 2025 (H1 2021)

Summary
The fragility of Kuwait's construction industry predates the Coronavirus (COVID-19) outbreak, with output declining by 7.0% in real terms in 2019, owing to weakness in energy and civil engineering work. Government restrictions on non-essential activity during the lockdowns further exacerbated this fragility. A collapse in oil prices and OPEC-mandated oil output cuts further hampered the industry, as the government curtailed expenditure due to drastically reduced revenues. The situation worsened due to delays in the introduction of VAT and excise taxes, further limiting the government's ability to spend on major infrastructure projects. Construction activities were also affected by a temporary suspension of work, in line with the government's efforts to combat the outbreak. According to the Kuwait Business Impact Survey, released by Bensirri PR (BPR) in May 2020, approximately 39% of businesses in the construction sector had shut down operations since the government implemented lockdown measures in April to May 2020. Impacted by these conditions, The analyst estimates that the construction sector declined by an estimated 38.9% in real terms in 2020.

Owing to the significantly lower base, The analyst expects Kuwait's construction industry to recover strongly in 2021, growing by 28% in real terms. In 2022, the industry is projected to register a growth of 8.2%, and then expand by an annual average rate of 3.9% over the remainder of the forecast period (2023-2025). Government programs to promote the development of affordable housing, transport and renewable energy infrastructure are expected to continue to support the expansion of the industry in the coming years.

Kuwait's priority over the next few years will be to fast-track economic reforms and diversify the economy away from its dependence on hydrocarbons.These plans are part of the long-term New Kuwait 2035 National Development Plan.

However, progress on implementing the plan has been slow, partly because of political tensions between the government and parliament, and partly because of bureaucracy. However, owing to the economic downturn in 2020 caused by the overdependence on oil and gas revenues, economic reforms and diversification efforts are likely to be accelerated.

This report provides detailed market analysis, information, and insights into Kuwait's construction industry, including -
- Kuwait's construction industry's growth prospects by market, project type and construction activity
- Critical insight into the impact of industry trends and issues, as well as an analysis of key risks and opportunities in Kuwait's construction industry
- Analysis of the mega-project pipeline, focusing on development stages and participants, in addition to listings of major projects in the pipeline.

Scope
This report provides a comprehensive analysis of the construction industry in Kuwait.

It provides -
- Historical (2016-2020) and forecast (2021-2025) valuations of the construction industry in Kuwait, featuring details of key growth drivers.
- Segmentation by sector (commercial, industrial, infrastructure, energy and utilities, institutional and residential) and by sub-sector
- Analysis of the mega-project pipeline, including breakdowns by development stage across all sectors, and projected spending on projects in the existing pipeline.
- Listings of major projects, in addition to details of leading contractors and consultants

Reasons to Buy
- Identify and evaluate market opportunities using standardized valuation and forecasting methodologies.
- Assess market growth potential at a micro-level with over 600 time-series data forecasts.
- Understand the latest industry and market trends.
- Formulate and validate strategy using critical and actionable insight.
- Assess business risks, including cost, regulatory and competitive pressures.
- Evaluate competitive risk and success factors.