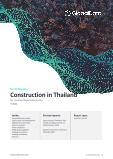 Construction in Thailand - Key Trends and Opportunities to 2025 (H1 2021)
May 2021 •
48 pages •
Report ID: 6072862 •
Format: PDF
Construction in Thailand - Key Trends and Opportunities to 2025 (H1 2021)

Summary
Despite the disruption caused by the Coronavirus (COVID-19) pandemic, the construction industry's output grew by 2.3% in real terms in 2020; this followed growth of 2.3% and 1.6% in 2018 and 2019, respectively. Although Thailand imposed a lockdown in mid-2020, construction activity remained relatively resilient, with most work progressing without much disruption. However, certain projects are expected to face delays and subsequent cost overruns, as the pandemic has caused supply chain disruptions and labor shortages in the construction industry.

The analyst expects the construction industry to grow by 1.9% in real terms in 2021, supported by government plans to attract foreign investment, revive the tourism industry, and develop affordable housing, transport, and renewable energy infrastructure. In February 2021, the State Enterprise Policy Office (SEPO) approved the government's investment in four public-private partnership (PPP) projects worth THB163 billion (US$5.4 billion) for 2021. The SEPO also revised the 2020-2027 draft plan, under which it approved 77 projects worth THB1 trillion (US$29.3 billion) for the period of 2021-2027. Over the remainder of the forecast period, the industry is expected to register an average annual growth of 4% between 2022-2025, supported by improving investor and consumer confidence, and government investment on road, rail, renewable energy, and housing projects. The government's pre-COVID-19 plans to develop transport infrastructure are also expected to drive the industry's growth over the forecast period. Under the Southern Economic Corridor (SEC) project, the government plans to invest THB106.8 billion (US$3.4 billion) towards the development of 116 projects during the period of 2019-2022.

Progress has been made on flagship Eastern Economic Corridor (EEC) projects, with the government signing Public-Private Partnership Agreements (PPPA) for four out of the six developments.These include the High-Speed Rail linking Donmueang, Suvarnabhumi and U-Tapao Airports (HSR), the U-Tapao International Airport, the Map Ta Phut Industrial Port (Phase 3) and the Laem Chabang Port Phase III.

PPPAs for the remaining two projects - Digital Park/EEC Digital Innovation Zone (EECd) and Thai Airways Maintenance Repair and Overhaul (TGMRO) Campus project - are also expected to be signed by the end of 2021. The projects are expected to be completed by 2025 and entail an investment of THB669 billion (US$20.7 billion). Overall, the EEC program, which was approved by the Thai cabinet in June 2016, involves infrastructure developments and upgrades across Rayong, Chachoengsao and Chonburi provinces in Thailand, and is expected to require an investment of US$44 billion. The program includes the construction of railways, airports, and ports, as well as the development of industries, business zones and cities.

This report provides detailed market analysis, information, and insights into the Thai construction industry, including -
- The Thai construction industry's growth prospects by market, project type and construction activity
- Critical insight into the impact of industry trends and issues, as well as an analysis of key risks and opportunities in the Thai construction industry
- Analysis of the mega-project pipeline, focusing on development stages and participants, in addition to listings of major projects in the pipeline.

Scope
This report provides a comprehensive analysis of the construction industry in Thailand.

It provides -
- Historical (2016-2020) and forecast (2021-2025) valuations of the construction industry in Thailand, featuring details of key growth drivers.
- Segmentation by sector (commercial, industrial, infrastructure, energy and utilities, institutional and residential) and by sub-sector
- Analysis of the mega-project pipeline, including breakdowns by development stage across all sectors, and projected spending on projects in the existing pipeline.
- Listings of major projects, in addition to details of leading contractors and consultants

Reasons to Buy
- Identify and evaluate market opportunities using standardized valuation and forecasting methodologies.
- Assess market growth potential at a micro-level with over 600 time-series data forecasts.
- Understand the latest industry and market trends.
- Formulate and validate strategy using critical and actionable insight.
- Assess business risks, including cost, regulatory and competitive pressures.
- Evaluate competitive risk and success factors.