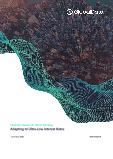 Adapting to Ultra-Low Interest Rates - Thematic Research
June 2021 •
49 pages •
Report ID: 6101293 •
Format: PDF
Adapting to Ultra-Low Interest Rates - Thematic Research

Summary
This report offers an in-depth analysis of the financial services strategies of retail banks adapting to the ultra-low interest rate environment. We look at their strategy to diversify their streams of revenue as well as move into new business areas and analyze how well they will adapt to macroeconomic challenges that are affecting the entire industry.

Since 2007 and the global financial crisis, many of the world's most developed economies have been dealing with ultra-low interest rates as policy makers and politicians attempt to stimulate demand.Over a decade on, with a poor economic recovery, the COVID-19 crisis has once again caused base rates to be cut, though little room to do so exists given how close they are to zero already.

As a result, many economies have found themselves implementing zero-percent rates or even negative interest rates, attempting to further incentivize spending and stop customers saving.

Scope
- The most innovative names in retail banking are becoming platforms and integrating non-banking services into their offerings. This serves as a new stream of revenue for them and places their banking and financial services offerings front and center to capture more of the primary account and spending relationship with customers.
- Banks that are primed to succeed over the next five years in the face of compressed net interest margins are those that have lowered their cost-to-income ratio and decreased the proportion of revenue reliant on net interest income. This represents banks that have streamlined their business models and reached the necessary efficiencies to remain profitable as rates remain low.

Reasons to Buy
- Gain an understanding of the banks that are most likely to succeed in the ultra-low interest rate environment and the strategies they have taken and launched to gain an advantage.
- Discover how banking is changing and understand that the largest banks are becoming more like technology companies and conglomerates.
- Understand how macroeconomic forces are driving strategy and technological change that will make it easier for large companies to move into new sectors.