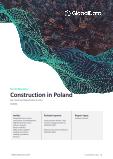 Construction in Poland - Key Trends and Opportunities to 2025 (Q2 2021)
June 2021 •
51 pages •
Report ID: 6107009 •
Format: PDF
Construction in Poland - Key Trends and Opportunities to 2025 (Q2 2021)

Summary
The Polish construction industry weakened in 2019 following two years of robust growth, with output growing by 6.5% and 11.8% in 2017 and 2018, respectively. The industry recorded a marginal contraction of 0.3% in 2019. The COVID-19 outbreak further affected the industry, with the industry contracting by 3.7% in real terms in 2020. Output in the industry is expected to weaken further in 2021, with the analyst forecasting a 2.4% contraction; the decline in output is expected to be driven by the weak investor confidence and lockdown measures, which have affected construction activity. This is reflected in the latest data release from Eurostat, showing construction value-add contracted by 13% year on year (YoY) in the first quarter of 2021; this was preceded by Y-o-Y contractions of 5.3% in Q4 and 9.5% in Q3 2020.

The analyst forecasts the construction industry to recover in 2022, growing by 4.2% and recording an annual average growth rate of 4% between 2023-2025, supported by government investments in infrastructure, residential and renewable energy projects. The Kolej Plus programme was launched by the government in early 2020, with a total investment of PLN6.6 billion (US$1.6 billion), under which the country's railway infrastructure will be developed in cities which lack railway transport. Adding to this, in early June 2021, Poland's deputy minister for infrastructure, Marcin Hora?a signed an agreement with Spanish Minister of Transport, Mobility and Urban Agenda, José Luis Ábalos, towards the development of a Polish high-speed rail system, part of the Solidarity Transport Hub. Furthermore, the government has pledged an investment of PLN75 billion (US$18 billion) in renewable energy projects, which will help the country in meeting its clean energy goals.

This report provides detailed market analysis, information, and insights into the Polish construction industry, including -
- The Polish construction industry's growth prospects by market, project type and construction activity
- Critical insight into the impact of industry trends and issues, as well as an analysis of key risks and opportunities in the Polish construction industry
- Analysis of the mega-project pipeline, focusing on development stages and participants, in addition to listings of major projects in the pipeline.

Scope
This report provides a comprehensive analysis of the construction industry in Poland.

It provides -
- Historical (2016-2020) and forecast (2021-2025) valuations of the construction industry in Poland, featuring details of key growth drivers.
- Segmentation by sector (commercial, industrial, infrastructure, energy and utilities, institutional and residential) and by sub-sector
- Analysis of the mega-project pipeline, including breakdowns by development stage across all sectors, and projected spending on projects in the existing pipeline.
- Listings of major projects, in addition to details of leading contractors and consultants

Reasons to Buy
- Identify and evaluate market opportunities using standardized valuation and forecasting methodologies.
- Assess market growth potential at a micro-level with over 600 time-series data forecasts.
- Understand the latest industry and market trends.
- Formulate and validate strategy using critical and actionable insight.
- Assess business risks, including cost, regulatory and competitive pressures.
- Evaluate competitive risk and success factors.