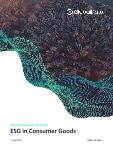 ESG (Environmental, Social, and Governance) in Consumer Goods - Thematic Research
July 2021 •
50 pages •
Report ID: 6107068 •
Format: PDF
ESG (Environmental, Social, and Governance) in Consumer Goods - Thematic Research

Summary
Environmental, social, and governance (ESG) is the most important theme for 2021, and the next 10 years.Companies must excel across all three aspects of ESG.

Being a laggard in one ESG area will taint brand image and influence consumer decisions, despite progress in other areas.Many social and environmental issues exist within FMCG supply chains.

Lack of traceability is no longer an excuse, and FMCG companies will be judged based on supply chain ethics. This report offers expert market analysis, data, and comparisons of FMCG companies' ESG achievements and commitments, and highlights industry leaders and laggards.

propriety ESG framework identifies 12 main areas of ESG, contributing factors to these areas, and mitigating actions that companies can take to excel in ESG. The report's trends section highlights the tech, macro, and industry trends impacting the ESG theme in consumer goods over the next 12 to 24 months.

Scope
- Unilever, AB In-Bev, and Philip Morris are governance leaders, and Coca-Cola, Heineken, Danone, and Diageo are governance laggards. Environmental and social leaders and laggards are also highlighted in the report.
- Senior executives are skeptical of corporate sustainability, with 74% considering it a marketing exercise or greenwashing.
- Supply chain management is the foundation for ESG progress for FMCG companies. The report contains examples of companies using AI and blockchain technologies to track distributed supply chains, increase transparency, and mitigate ESG malpractice. Unilever launched a blockchain pilot to track and manage transactions across its tea supply chain, verifying 10,000 supply chain contracts.
- L'Oréal UK pays female workers £0.66 for every £1 earned by a man. This is significantly worse than the UK industry average of £0.93.

Reasons to Buy
- Position yourself for the future and create a holistic ESG strategy using ESG framework. Assess sustainability policies, performance, and progress against ESG framework. Identify and mitigate factors that contribute to negative consequences and pursue actions to improve ESG performance.
- Uncover the FMCG companies excelling in ESG operations with thematic scorecard. Understand competitor activity and positioning in the ESG theme with the extensive coverage of each leading company's activity in the companies section.
- Use the trends section to identify key technology and macro trends affecting and shaping the ESG theme, such as using blockchain ledgers for supply chain traceability.
- Discover the key challenges to FMCG companies across environment, social, and governance, with company examples of mitigating actions and malpractice.
- Understand the ESG action feedback loop, a market mechanism that drives reputational and competitive advantage, incentivizing further action and drawing more participation.