2 reports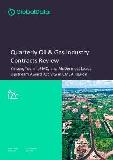 Quarterly Oil & Gas Industry Contracts Review - Yinson, TechnipFMC, and McDermott Leads Upstream Award Activity in EMEA Region Summary In Q1 2019, the Oil and Gas industry reported 1242 contracts, of which 1178 were awarded contracts. EMEA recorded the most contracts with 569 contracts, representing...
Liquefied Natural Gas
Vessel
Natural Gas
Tanker
Oil And Gas
LNG Carrier
World
Construction Completions
Natural Gas Production

Summary RSA Group is one of the oldest and largest commercial insurers in the world. RSA has divided its portfolio into three core regions: the UK and Ireland, Canada, and Scandinavia. RSA caters to a wide range of businesses, from SMEs to large UK-domiciled multinational companies. With its specialist expertise RSA supports companies...
Insurance
General Insurance
Auto Insurance
United Kingdom
World
Advertising Expenditure
Gross Written Premium