3 reports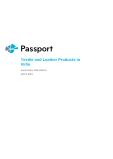 In the wake of the global pandemic, Indian household spending on apparel and footwear dropped, negatively impacting the textiles industry's turnover in 2020. The economic downturn led to a rise in unemployment, reduced household disposable incomes and a dip in consumer confidence. The median household disposable income dropped by 14% in 2020,...
Leather Good
India
Number Of Enterprises
Disposable Income
This study covers the latent demand outlook for leather and leather products across the states, union territories, and cities of India. Latent demand (in millions of U.S. dollars), or potential industry earnings (P.I.E.) estimates are given across over 4,900 cities in India. For each city in question, the percent share the city is of...
Leather Good
Leather
India
United States
Disposable Income
Purchasing Power Parity
This report presents quick facts about Mirza International Ltd., which is principally involved in Leather and Leather Footwear Business. Illustrated with 7 tables, the report showcases the company's sales performance, key markets and market position as against its competitors operating in the industry.
Leather Good
Leather
India