2 reports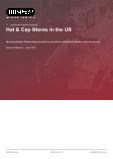 Moving ahead: rebounding economic conditions will boost industry revenue growth Abstract Hat & Cap Stores Like many retail industries that sell discretionary products, revenue for the Hat and Cap Stores industry has grown over the five years to 2019. Industry operators have benefited from rising consumer...
Hat
United States
Disposable Income
Consumer Confidence Index

2022 Retail Sales of Women's Hats, Wigs, and Hairpieces Global Market Size & Growth Report covers market size, revenue, growth, and share across 4 global regions, 22 subregions, and 216 countries. Figures are from 2012 through 2021, with forecasts for 2022 and 2026. The historical data utilizes in-depth survey results from companies...
Clothing Accessories
Retail
Hat
Apparel
Northern Europe
Southern Europe
Middle East
Caribbean
East Africa
Oceania
Eastern Europe
Western Europe
South America
Southeast Asia
West Africa
South Asia
North Africa
East Asia
Retail Revenue