3 reports
This report was created for global strategic planners who cannot be content with traditional methods of segmenting world markets. With the advent of a "borderless world", cities become a more important criteria in prioritizing markets, as opposed to regions, continents, or countries. This report covers the top 2,000 cities in over 200 countries....
Residential Cleaning Service
World
This study covers the world outlook for contract commercial and residential cleaning services across more than 190 countries. For each year reported, estimates are given for the latent demand, or potential industry earnings (P.I.E.), for the country in question (in millions of U.S. dollars), the percent share the country is of the region,...
Residential Cleaning Service
World
Gross Domestic Product
Disposable Income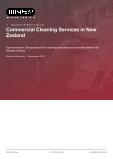 Residential cleaning services
Non-Residential Construction
Real Estate
Hospitality
Window Cleaning Service
Residential Cleaning Service
New Zealand
Number Of Enterprises
Employment Income