3 reports
Abstract: - Global Neglected Tropical Diseases Diagnosis Market to Reach $7.9 Billion by 2027 - Amid the COVID-19 crisis, the global market for Neglected Tropical Diseases Diagnosis estimated at US$6 Billion in the year 2020, is projected to reach a revised size of US$7.9 Billion by 2027, growing at aCAGR of 4% over...
Tropical Disease
Diagnostics
World
China
United States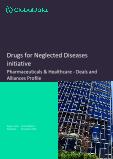 DNDi Enters Into Co-Development Agreement With Abbott Labs For Neglected Tropical Diseases
Pharmaceutical
Healthcare
Research And Development
Tropical Disease
HIV Antiviral
World
Asia
Pharmaceutical Exports
HIV AIDS Prevalence
• The global market for neglected tropical diseases should reach $2.6 billion by 2021 from $1.4 billion in 2016 at a compound annual growth rate (CAGR) of 14.1%, from 2016 to 2021. • The market for malaria treatments is expected to grow from $513.5 million in 2016 to $757.9 million in 2021 at a CAGR of 8.1% for the period 2016-2021. •...
Tropical Disease
Infectious Disease
World
Africa