3 reports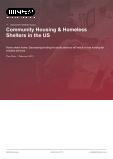 Home sweet home: Decreasing funding for social services is likely to result in less funding for industry services Abstract Community Housing & Homeless Shelters in the US According to the 2018 State of Homelessness in America report, the largest drops in the unemployment rate and poverty rate have come...
Housing
United States
Unemployment Rate
Poverty Rate
Growing Adoption of Prefabrication Technology in the Construction Industry Singapore is the first country in the Southeast Asian region to use precast concrete prefabrication technology in the construction industry. It is also a world pioneer in quantifying buildability. The government policy and buildability legislation create...
Construction
Wall Coverings
Concrete
Public Housing
Singapore
Housing associations form the largest not-for-profit group in the country, working closely with both private and public organisations. In 2015, total UK housing association stock increased to 2,828,000 units with increases in all types of housing. Around 75% of market stock owned or managed by housing associations is general needs housing,...
Housing
United Kingdom
Construction Starts
Construction Completions