3 reports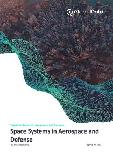 Space Systems in Aerospace and Defense - Thematic Research Summary The government sector (including the military) has historically been a primary driver for the space systems market.However, in terms of population commercial satellites have come to dominate, representing 46% of operational satellites...
Defense
Space
Navigation Systems
GNSS
World

The Satellite Communication Market in the Defense Sector was valued at USD 4.60 Billion in 2021, and it is expected to reach a value of USD 6.83 Billion by 2027, registering a CAGR of 6.93% during the forecast period (2022-2027). Key Highlights Satellite communication is being used for a plethora of applications...
Satellite
Defense
World
Defense Expenditure
Broadband Penetration

About Advanced Extremely High Frequency (AEHF) Systems Advanced extremely high frequency (AEHF) is a series of communications satellite systems operated by the US Air Force Space Command. They are used to relay secure communications for the US Armed Forces, the British Army, the Canadian Armed Forces, and the Royal Netherlands Forces....
Defense
Satellite
Auto Parts
Military Satellite
World
Aircraft Fleet Size