2 reports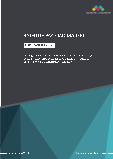 The satellite payloads market size is projected to grow from USD 3.7 Billion in 2021 to USD 11.3 Billion by 2026, at a CAGR of 24.8% from 2021 to 2026. The satellite payloads market is growing at a significant rate across the world, and a similar trend is expected to be observed during the forecast period. Ongoing advancements in space technology...
Satellite
World
North America
United States
Europe
APAC
Gross Domestic Product
Foreign Direct Investment

The Satellite Communication Market in the Defense Sector was valued at USD 4.60 Billion in 2021, and it is expected to reach a value of USD 6.83 Billion by 2027, registering a CAGR of 6.93% during the forecast period (2022-2027). Key Highlights Satellite communication is being used for a plethora of applications...
Satellite
Defense
World
Defense Expenditure
Broadband Penetration