2 reports
The global torpedo market reached a value of US$ 966 Million in 2021. Looking forward, the analyst expects the market to reach US$ 1,259 Million by 2027, exhibiting a CAGR of 4.9% during 2022-2027. Keeping in mind the uncertainties of COVID-19, we are continuously tracking and evaluating the direct as well as the indirect...
Research And Development
Naval Ship
Surface Combatant
World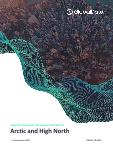 Arctic and High North (Militarization) - Thematic Research Summary This report focuses on the militarization of the Arctic and High North.The Arctic region is becoming increasingly important as climate change-induced ice melt exposes valuable resources for the first time. Technological...
Defense
Weapon
Surface Combatant
DIY Equipment
Russia
Northern Europe
World
Europe
North America
United States
Eastern Europe
Defense Expenditure
Nickel Production