3 reports
The India induction motor market reached a value of US$ 606.2 Million in 2021. Looking forward, the analyst expects the market to reach US$ 1062.2 Million by 2027, exhibiting a CAGR of 9.6% during 2022-2027. Keeping in mind the uncertainties of COVID-19, we are continuously tracking and evaluating the direct as well as the indirect influence...
Abstract: What`s New for 2022? -Global competitiveness and key competitor percentage market shares -Market presence across multiple geographies - Strong/Active/Niche/Trivial -Online interactive peer-to-peer collaborative bespoke updates -Access to our digital archives and MarketGlass...
Personal Care Appliance
Oral Hygiene
Hair Care
World
China
United States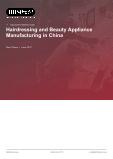 Abstract Hairdressing and Beauty Appliance Manufacturing in China The Hairdressing and Beauty Appliance Manufacturing industry in China produces household beauty and healthcare appliances, including hair driers, electric hair cutters, electric shavers, cosmetic instruments, electric toothbrushes,...
Cosmetics
China
Employment Income
Disposable Income