2 reports
The hydrophobic coatings market is projected to register a CAGR of 5.5% between 2017 and 2022. The market size of hydrophobic coatings is estimated to be 10,022.5 tons in 2017 and is projected to reach 13,099.0 tons by 2022, at a CAGR of 5.5% between 2017 and 2022. Increased demand for hydrophobic coatings from the automotive,...
Coating
APAC
Car Sales
Gross Domestic Product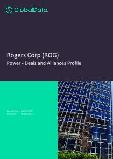 Summary Rogers Corp (Rogers) is a diversified company that offers advanced connectivity solutions, elastomeric solutions and power electronic solutions. The company's advanced connectivity solutions include laminates, bondply or prepreg, copper clad laminates and conductive adhesive film. Its elastomeric solutions comprise silicones,...
Automotive
Thermoset
Renewable Energy
Aerospace And Defense
Public Transport
Electronic Ceramic
Electric Vehicle
ICT
World
Asset Under Management