3 reports

The Indian gaming market was estimated to be valued at USD 1.02 billion in 2020, and it is expected to reach USD 4.88 billion by 2026, registering a CAGR of 20.83% over the forecast period 2021 – 2026. With one of the world's largest youth populations, India is expected to become one of the world's leading market destinations in the gaming...
Gaming
India
Smartphone Penetration
Internet Penetration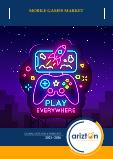 In-depth Analysis and Data-driven Insights on the Impact of COVID-19 Included in this Global Mobile Gaming Market Report The increased focus on localizing the content, launching multiplayer games, and live streaming of mobile games boosts the global mobile gaming market. The ongoing mergers, acquisitions & partnerships by the vendors...
Mobile Game
World
Smartphone Penetration
Mobile Gaming Penetration
Digital games conquering the gaming landscape on the Old Continent In Europe's largest gaming market, Germany, the virtual goods segment is booming: revenues from micro-transactions in games more than doubled in 2014, while smartphones and mobile phones overtook PCs as the device most used to play games. In the UK also the freemium...
Mobile Game
Internet Services
Online Game
Europe
Eastern Europe
France
Germany
Russia
Internet Subscribers
Online Gaming Revenue