3 reports
The global biochar market exhibited strong growth during 2015-2020. Looking forward, the analyst expects the market to grow at a CAGR of around 10% during the forecast period (2021-2026). Biochar refers to the fine-grained biomass obtained by burning wood, animal manure, forest waste and other agricultural by-products...
Pollution Control
Research And Development
Energy Storage
Organic Food
Bioenergy
Carbon Capture
Animal Feed
Manure
Food Packaging
Inorganic Fertilizer
Organic Agriculture
Water Utility
World
Greenhouse Gas Emissions
The global agricultural inoculants market exhibited moderate growth during 2015-2020. An agricultural inoculant, or soil inoculant, is a formulation of various microbial organisms, such as bacteria, fungi, protozoa, virus and algae, that are used to promote plant growth. It is either applied on the seed or added into...
Fertilizer
Pollution Control
Food
Manure
Inorganic Fertilizer
Pesticide
Organic Agriculture
World
Food Consumption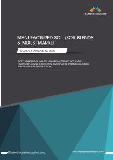 ## MANURE & COMPOST
Compost
Manure
Construction
Organic Fertilizer
APAC
Agricultural Area
Food Consumption