3 reports
As the global chemicals industry is at the onset of the recovery phase, companies are focusing on identifying and monetizing new opportunities in the industry. The majority of the chemical industries are likely to record volume growth of 4% to 8% in the short term, depending on the chemical sub-segment and product portfolio. A large volume...
Algicide
World
Europe
Middle East
Africa
APAC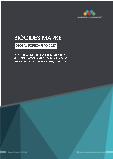 They can also be combined with algicides and fungicides for other applications as well.
Biocide
World
Europe
North America
APAC
Middle East
Water Utility Expenditure
Real Gross Domestic Product

They produce chemicals such as dithiocyanomethane, sodium sulfocyanate, SQ## germicide and algaecide, SG germicide and algaecide, Chong Mei Ling.
Biocide
China
Industrial Production
Employment Costs