3 reports
Abstract: - Global Hot Chocolate Market to Reach $4.5 Billion by 2027 - Amid the COVID-19 crisis, the global market for Hot Chocolate estimated at US$3.3 Billion in the year 2020, is projected to reach a revised size of US$4.5 Billion by 2027, growing at aCAGR of 4.8% over the period 2020-2027. Offline, one of the...
Hot Chocolate
World
United States
China
The global whipping cream market exhibited moderate growth during 2015-2020. Looking forward, the analyst expects the market to grow at a CAGR of around 5% during 2021-2026. Keeping in mind the uncertainties of COVID-19, we are continuously tracking and evaluating the direct as well as the indirect influence of the...
In-Store Retail
Beverage
Confectionery
Spice
E-Commerce
Dairy Products
Ice Cream
Hot Chocolate
Pastry
World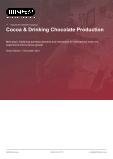 Melt down: Softening domestic demand and restrictions on international trade are expected to limit revenue growth Abstract Cocoa & Drinking Chocolate Production Over the five years to 2018, the Cocoa and Drinking Chocolate industry has benefited from trends including improving disposable incomes and...
Hot Chocolate
Cocoa
Confectionery
World
United States
Disposable Income
Cocoa Price